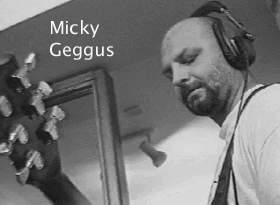 Right the story goes, New 8 Bells pub, Robertsbridge, Sussex, end of May 1995, two minutes from the end of the interview session for 'Oi! The Video', and Cockney Rejects frontman, Jeff 'Stinky' Turner says, "We might just get around to doing another album."
Like Cock Sparrer retiring, The Sex Pistols doing a charity gig and Kontrol giving a foreign Oi! band a good review, there's plenty of speculation from over eager punters - but in reality, it's one of those things that probably ain't ever gonna happen. Rumours fly this way on all varieties of subjects, but we've learned that unless it comes from the horses mouth - don't believe the hype!
With The Rejects' track, I'm Not A Fool, getting another airing via the Levis' advert in 1998, another wave of speculation came as to what may happen next: Nothing was the result. At least not til the summer of 1999. The Levis ad had dredged up some record company interest and after a bit of haggling, the band were made an offer suffice for them to strap back up and hit the studio again.
First news came in here at Kontrol when Stuart Black, the band's manager, gave us a call and asked us if we were up for doing a video of the recording session. An offer accepted and date of Thursday 2nd September penciled in, we actually didn't hear much more until a fortnight before the scheduled date of recording.
The plan was, Jeff would travel up by train on the Saturday, whilst Mick, Stuart and Myself would travel up on the Thursday, break the journey, then join up with Tony 'Van' Frater, guitarist with Red Alert and Lainey, bass player with Red Alert and Leatherface drummer - who for this session with The Rejects were playing bass and drums respectively - on the friday.
With former drummer, Keith 'Stix' Warrington, and bass player, Vince Riordan out of touch with the band, it was down to Tony and Lainey to become - in a lovely twist of irony - the Cockney Rejects rhythm section.
So Tuesday 2nd September arrives, and I'm packed up with cameras, lighting, tripods and what little clothes I can squeeze into the bag awaiting the 9-10am pick up. The phone rings and it's Stuart Black telling me that it'll now be nearer midday, due to him 'still packing as it's quite a while we're away'. Bloody hell! Is he taking a wardrobe?!
1pm and we're on the road. A town just outside Middlesboro is our first location and comes about surprisingly quick in as little as five and a half hours on the road, stopping only briefly in a strangely located motorway restaurant where the last time the band were on the road, they'd crashed their Dad's car - which they'd borrowed without his knowledge. Not having a fetish for motorway smashes I'm happy when history doesn't repeat it's self!
An overnight stop in a Norman Bates'esque style motel and it's now time for the crunch. Sunderland - The Roker - was the destination to hook up with Tony Van Frater, who as the North-East henchpin had arranged the times, locations and studio space.
The only real thing I remember about Sunderland was that the pubs play Red Alert on the Juke-Box and that a full cooked breakfast cost two quid. Well, the ones we visited did anyhow - strangely. And instead of 'going' they say 'ganning'! Bizarre. A not too fucked up rendezvous with Tony leads us to his local for a couple of some pre-rehearsal Coke. What? Drugs already? No, fuckhead. Coke-a-cola!! Something I was to see more than my fair share of during the week as I was on the wagon and didn't want to spend most of the days on the throne in excruciating pain. That's enough detail there I think!
Next stop: The Bunker - a former recording studio and now hellhole of a rehearsal space where we meet Lainey for the first time. The air seemed quite tense as nobody knew what the fuck to expect - and what's more it was going down on camera, as by now the full logging fly-on-the-wall camera had been switched on. I remember, after running The Rejects, 'Oi!' interview, that people were saying, 'bit full of themselves'. Apart from the fact that half of it was tongue in cheek, from the moment the rehearsal kicked off with the opening bars of Badman, I knew Mick had every right to be 'full of himself' as I don't think I've ever seen such a guitarist before in my life! An exaggeration? No. OK, can't ever say I've worked with Van Halen, (only Van Frater!! Ho Ho!) but I honestly can't remember seeing someone quite as 'at home' with the tool of their trade before. And considering he'd not really played for 8 years that some big deal.
By the end of Badman, everybody in the room was happy that this session was going to be a success.
Session over and it's quite overt that Mr. Van Frater maybe the king of Sunderland, but his navigation of the Toon - Newcastle - is somewhat dodgy. After telling us that the hotel we were staying was a 'good 8 miles' away from the Recording studio and 'in the middle of nowhere!' - we were happy to find that it was little more than a ten minute walk to the centre of town and only a ten minute drive to the studio which can't have been much more than two miles away.
I've heard some crazy stories about the 'Toon' - but like the rumours mentioned in the opening paragraph of this rather rushed article, I didn't believe them. Let's just say for anybody - anybody who can blend into a crowd that is - Newcastle on a Friday and Saturday night turns into a cartoon style array of women aged from 16 to 69, tarted up to the eye balls, skirts up to their snatches and with not a pair of knickers in sight - and purely for the experience of laughing at seeing such blatant hedonism, must be seen! Being merely 'sightseers', a small pub was found to watch the madness going on outside, and if anybody pays Newky a visit, I can highly recommend just a walk through the town centre just to cheer you up!
Back to the second of what seemed an ever changing line of hotels to stay in, and the reality of Newcastle as a city kicks in. Whilst being a pleasant enough 'hotel' - though we was later to find out why they smiled at us! - it was situated on the edge of an estate which resembled the morning after in Belfast. After getting up and going out for a newspaper, I noticed half of the almost new houses on the estate were empty and boarded up and that the entire site was filled with small bonfires! Most bizarre though was someones use of a mobile burger bar as a garden shed!!!
Today was the crunch. The recording was to begin at 10am, Jeff was to arrive by Inter-city at mid-day, and with 16 full songs - with overdubs, backing vocals and even an harmonica! - to be recorded in 4 days the clock was against them.
With Lainey and Tony both familiar with the studio, and engineer and former Penetration/Tygers of Pan Tang guitarist, Fred Purser, the initial set up and introductions were smooth and by the time Jeff was to arrive the back-line to several songs were well underway.
Trouble was, Jeff was due in on the 11.40 from London Euston, but when Stuart went to pick him up from the station he wasn't on it. Panic was now about to set in. Stuart phones Mick at the studio. Mick phones about to see if Jeff has actually left home. Jeff's left home but wasn't on the train, so looks like he's missed the train and stuck at Euston. He had a booked ticket and if he missed his designated train he'd have to pay again which could have resulted in a row - and most probably Jeff banged up in Euston nick! By the time we'd actually gone through all the possibilities and we're now beginning to think that it may be going pear shaped, the phone rings and Stuart informs us that he was actually on the train after all, and that whilst on the lookout for yellow peril he'd missed him. Dohh! Panic over.
With the exception of Jeff's voice taking a hammering and a quick trip to the chemist for a 'throatcare' product, not to mention a pair of ear plugs to stop me going mutt & jeff whilst filming, and Mick's borrowed Gibson constantly going out of tune - taking up valuable time - all went smoothly and although the clock was running against the them the tracks were going down.... Badman... The Rocker... Fighting in the streets... Someone like you... Join The Rejects.... Where the hell is Babylon... On the streets... On the run... Some play dirty.... Here they come again... Hate of the City... I'm not a fool... Headbanger... Til the end of the day... Sitting in a cell and the provisional title track of, Here They Come Again.
"Errrr.... Some quite big omissions there ain't there?" I can hear you think, looking for the missing tracks
like Oi! Oi! Oi!, Greatest Cockney Rip Off and We Can Do Anything. Maybe, but tough. The track listing is a result of Mick and Jeff going through the back catalogue and honestly picking out their favorite tracks which they felt they could re-record with the passion and energy that's needed for this kind of album, and not just churning out a greatest hits album from tracks they no longer feel are valid.
With the four days recording done, though the mix having to wait til another session due to time restraints, it was time for a post-session beer, and a swift interview to use for the forthcoming video - cunningly titled 'Here They Come Again' to tie in with the album!!
Other occurrences worth a mention must be Tony Frater's sunday lunch service - the man cooked dinner for about 8 of us, Jeff 'Stinky' Turner well and truly living up to his nick name by gassing us all in the vocal booth during backing vocals and Newcastle's Punk Rock pussy - no, not a gang of some mohicaned lasses, but a feline who resides in the garden of the studio and was quite happy to bask in the sun whilst gut wrenching guitars churned out at 300db shaking all around it!!!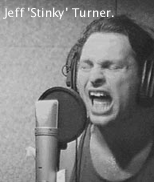 Back at hotel # 3 after the final day of recording, where tonight Lainey and Tony are also staying over, we take a coup of the breakfast lounge.
Lainey: "Wanna beer?"
Mick: "No. Oh, go on then. A can of Bitter."
Stuart Black acts as the waiter and clears the table of the breakfast crockery set out for breakfast in the morning. Then, the table cloth before somebody mocks a bullfight.
Mick: "Hold on. Let's wait for the Geordie lads. They're ganning doon a pint. Ha! Ha!
The Geordie boys arrive with a beer.
Mick: "Here we gan again - ere, that's a good title for the album!"
Jeff's back on drugs again as he takes an ibuprofen for a sinus problem. Age is catching him up.
Mick says looking at the cameras: "Rejects interview take 2"
Kontrol: So, where are we, why are we here and how did it all come about?
Jeff: "How it all came about? Well we got an offer..."
Mick: "From someone who shall remain nameless."
Jeff: "Yeah nameless. That was to do some of the old tracks. Then someone else came in to it. Why are we doing it? Basically I'm brassick - I am! - and, Ha! Ha! Ha! It's 20 years and all we've kind of bought the band up from the ashes and got in these two lads here - Tony and Lainey - and here we are."
Mick: "We did kind of do it out of necessity - but never expected it to be such a pleasure. We almost dreaded doing it."
Jeff: "Everyone was like that though. We all dreaded doing it. But we're here and we're happy."
Kontrol: So how have things gone in general?
Mick: "Absolutely fucking brilliant."
Jeff: "Yeah, brilliant. Fantastic."
Mick: "Way way above expectations. I think what we've done here must be some sort of fuckin' record. We've got 4 blokes who've never played together before, done a four hour rehearsal and cut a full album the next day. And it's a hot album."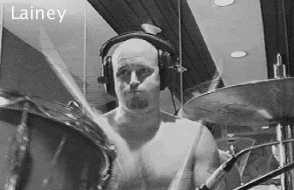 Tony: "It is a hot album. You've got to hear this album, and you'll shit your little Nicks'."
Jeff: "Shit your little Nicks? Ha! Ha! Ha!"
Mick: "16 tracks, the full works, hot production, in just 4 days. And everyone a gem!"
Kontrol: So what kind of problems have you encountered?
Tony: "Just my smelly feet (Smelly? Rancid have nothing on this guy! - Ed.)."
Jeff: "And a few farts in the vocal booth.. Ha! Ha! Some pure filth. Na, apart from that no problems. We'll probably go out on the town tonight now and get stabbed."
A mob chorus of laughter.
Jeff: "Know what I mean? But up 'til now it's been cushty."
Kontrol: So how's this session differ from that of your EMI days?
Mick: "EMI days? pheeeww."
Jeff: "I'd just started wanking then! Ha! Ha! But it's gone as smoothly."
Mick: "The thing back then was we had a production deal which meant you got as long as you wanted to do things really. When you're in that situation you get a bit complacent. You sit back and think there's plenty of time, but here we've had to get our heads down and really go for it to get things done in time."
Kontrol: So why just re-record song?
Mick: "That was the deal!! The label wanted us to re-do some of the old songs, to bring them up to date and give them a current sound. The songs were good first time round, and I think they have stood the test of time - but this is better! It's a really kicking sound. I suppose it gives the kids who missed it first time round a chance to hear it as it's supposed to be at the time."
Kontrol: So what's the main differences here?
Jeff: "We're a bit older now and know how we want them to sound."
Mick: "Plus technology is a lot better now, so we can do far more things and achieve a better sound. And we were kids when we recorded those albums, the structures were a bit loose and now we've tightened things up. It really is fresh on the ears. Plus I've learned to play D now."
Lainey: "It's B you have a problem with! Ha! Ha!"
Jeff: "Yeah, there are some differences in the way we've put these down... But like Mick said, I was 14 or 15 when I did those. I've learnt the trade since doing it back then... Plus we've really been gelling with these boys" He looks at Tony and Lainey. "They're both tour veterans and know their stuff!"
Kontrol: Any plans for new material after this one?
Mick: "We'll see... I'd be nice to do something new."
Jeff: "This might be the shot up the arse we need to get things back on track. but we've got to find more people to slag off before we can write any new songs. Ha! Ha!"
Kontrol: Tell us a bit about the studio set up here and what you made of it?
Mick: "We've been working with Fred Purser in his studio, he was in Penetration and the Tygers of Pan Tang."
Jeff: "To be honest it's been excellent..."
Mick: "He is the easiest person I've had to work with.. He really knows his stuff. There's no pressure, but we got through what we had to do. It's nice to be working with a comtempoary... good man."
Kontrol: So what about this new rhythm section? How they been?
Jeff: "They've kicked our arse!"
Lainey: "It's funny how I got the gig. I was walking down the road when these geezers came up and said do I wanna join a band. Ha! Ha!"
Jeff: "We press ganged him!"
Tony: "I got a phone call from Jeff a while back and he was explaining that they'd gotten the offer to do this album, but were lacking the rhythm section. So I was asked to join the band at 5 o'clock then at 6 o'clock I was off to Spain with Red Alert. I was sitting on the plane thinking bloody hell I'm in the Cockney Rejects now!Working with this fella" He looks at Mick. "has been the coolest experience of my life. He was my guitar idol as a kid and to play along side him and have a really good laugh has just been superb!"
Mick: "It has been fun. The camaraderie has been there in this recording and that was missing from the last few things we did as a band. People fell out a bit in the end, but I've loved every minute - it's the way it goes."
Kontrol: What else may come from this recording?
Jeff: "We don't really know yet. But let's just say that if there is anymore to come from the Cockney Rejects then this is the line up for it." Tony and Lainey look at each other and grin as if a job has been saved at the factory. "If go forward, then we might give it a go. Perhaps the odds are with us a little bit more now, you know? Things have died down now and perhaps that has given a chance to get out and do what we've always wanted to without the shit. I mean, if we don't do it now we really are gonna be too old!!"
Kontrol: You seem a lot more optimistic about things now than the last interview we did?
Mick: "I am a lot happier: We all are a lot happy because we actually had a good experience - can't say that about too many of the things we've done!"
Jeff: "I'd do it again tomorrow."
Kontrol: That's on the way home - but what about on the way up here?
Mick: "I was nervous. Very nervous. That first time we got in the rehearsal studio I didn't know what to expect. I was sweating before we got in there. Luckily, 3 bars into the first song it just clicked and I thought, yeah, this is gonna be ok! And there was no problems."
Jeff: "Must admit I was nervous on train coming up."
Jeff demonstrates his nervous disposition and again lives up to his prior nickname by furiously dropping his guts. At which point we wrap things up before hitting the nearest pub for a final few pints.
This actually turned out to be one of the funniest moments of the week. After several beers in the nearest bar to the hotel, and with Tony trying to put £50 in the whip (half an hour before closing! Dohh!), it was decided to get on down to the nearest take away and then back to the hotel to keep the bar open indefinitely.
However, after an unsuccessful attempt to get something to eat in an Indian take away - with Tony buying the waiters hat, and then demanding a refund after he was told he looked like a cunt - someone (no, not me!) had a bright idea that we should jump in a cab to China Town and hit a restaurant. After 6 of us managed to almost hijack a black cab and persuade the driver to illegally fit 6 of us into the back of it, we were dropped in the center of a rather quiet looking China Town and started to look for somewhere to eat. The driver, who we thought we'd gotten one over on as we'd have had to pay for two cabs, turns out not to have been as daft as we first thought - and this explains why it was so quiet.
Obviously thinking, "fucking drunken Cockney wankers think I'm a daft Northern git - I'll show them! He He He...", the cabbie had known damn well that China Town shuts early on a Tuesday night but had still taken us there to take our fare. A couple of bouncers outside a club which was way over our expense level explained that any cabbie worth their weight wouldn't have taken us there! The cunt.
Anyway, we turn a corner or two and find ourselves outside St. James Park at nearing 1am, with only a handful of other drunken stragglers about. Luckily we find a cab rank - this time having to take two cabs, and ask to be taken to what had become our haunt, The Magic Flame, a very, very cheap Pizza palace in the Toon. Five minutes later we realise the cabbie is in fact taking us all round the fucking houses and we could have been there in two minutes flat! Our cabbie comes clean and only charges us normal fare. The others not fully realising what was happening got tucked up for a fiver five minute cab fare. Are all Geordie cab drivers complete cunts?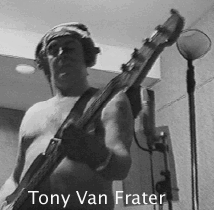 The Magic Flame is it's usual self and whilst there's no beer - at least we finally get to eat. Another cab drive back to the hotel, now nearing 2am, and we alarmingly find - thanks to either a decent Geordie cabbie or a wind up merchant - that we had a lucky escape, as not only was a pub that we considered going into on the first night, a.... Let's just say Women aren't welcome there!! That hotel # 2 was something of a den of iniquity where people, including those from the side pub, hired the rooms for ring stretching activities and the likes!! Fuck and I slept in that bed! Mick did actually complain of a woman moaning and groaning all night in the room above him on the first night. And I wondered why the woman behind reception - who's partner strangely resembled Roger Cook - gave me a coy grin when I went around for a paper in the morning!! Ohh! Sheee-ite!
And with that, it was off back down the Motorway to the south and to take stock of the 14 odd hours of footage that will cut together for the video.... For me it's gonna be another month at least before the edit is complete and I can stop viewing it!
(Stop Press: Video completed. 29th January 2000).

Stuart Newman. October 1999.
The full interview from Oi! The Video will feature here shortly.
For further information on the release of the video 'The making of... Here They Come Again' see : http://www.kontrol.freeuk.com/rejects2.htm